Solar Project at TS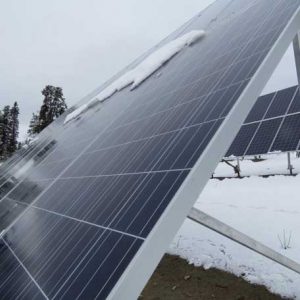 When you drive into the Mt. Lorne Transfer Station, take a minute to look over the top of the reuse and recycle buildings and check out the large array of solar panels on the hillside. It's pretty impressive!
There are 162 of them, each 310 watts, which totals a solar array capable of producing 50.2 kilowatts of energy. Currently it is the largest solar array in the Yukon, (there is a 300+ watt system planned and being tested now in Old Crow which is super impressive as well).
This project was funded by the New Building Canada Fund, through Yukon Government as the Transfer Station is a government site.
Since these panels have been in operation they have produced approximately 8 times more power than we have used here at the Transfer Station.
With all this surplus energy we are looking for ways to become as self sufficient as possible. Last year, with the help of locally donated labour, we installed an EV (Electric Vehicle) charging station, one of the first of these to be available to the public in the Yukon. Now we are actively investigating the possibility of acquiring (or potentially modifying) an EV truck for hauling our recyclables to Whitehorse for processing. If we are successful, this would mean that 100% of our operating and transportation energy requirements would be generated on site, making us almost totally self sufficient, at least on an energy usage basis.
Below: Data Tracker for Mt. Lorne Transfer Station solar system
(Be patient – takes a minute to load!)